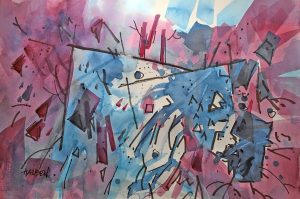 IF I WERE  "Dictator For A Day," I'd require every politician to do two years of actual military service and have at least a minor in an art course that covered the Elements and Principals of Design. Then, this country might have a real chance at CIVIL DISCOURSE. BTW, deferments for "bone spurs," would not be allowed.
Now, back to the real world…
No preliminary planning for this non-objective painting. The watercolor is an example of what I call, The Three T'S:  Transcription, Translation, and Transgression. This painting is an example of the latter. At this stage of my career, Vishal Civil Discourse is often a goal.
SEE MORE PAINTINGS, GO HERE